USE ONLY FOR ICUKG895 4G / LTE (icucam lite)
The camera must be logged in with a user.
Sufficient battery capacity must be available
NEVER interrupt the running update (e.g. by pressing the switch).
It's that simple:
Copy both files to the SD card
(one file shows 0 KB, this is not a problem for the process).
a. Insert the SD card into the PC for this purpose
or connect PC with enclosed USB cable
The date of the respective firmware version can be seen: yy ... year; mm ... month; dd ... day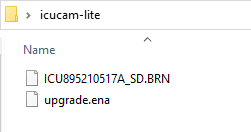 Firmware update
a. SD card in the camera
b. Press and hold the up arrow key "▲".
c. Switch to SETUP push
d. Still hold down the arrow key "▲".
e. When "Firmware update" appears, release the arrow key "▲".
f. Wait (approx. 10-20s ) until "Firmware update" disappears from the screen.
g. Switch off afterwards
h. Switch to SETUP push
i. Restore factory settings -> Camera menu "Settings".
NEVER switch off the camera during the update.
Version history